Training of the Mens 1500m World Record Holder
Hicham El Guerrouj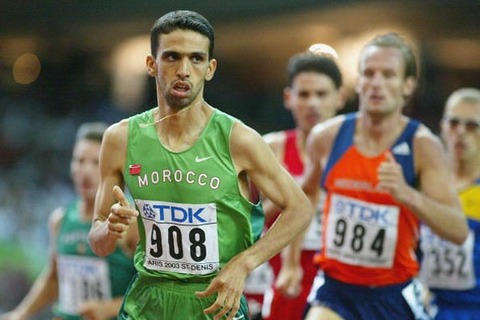 First preparation cycle (from October 18 to November 7, 1996)
| | | |
| --- | --- | --- |
| Day | Morning | Afternoon |
| 18 | Aerobic endurance | strength work |
| 19 | Aerobic endurance | Physical preparation |
| 20 | Aerobic endurance | Aerobic endurance |
| 21 | rest | strength work |
| 22 | Power | Aerobic endurance |
| 23 | Aerobic endurance | Physical preparation |
| 24 | Aerobic endurance | strength work |
| 25 | Rest | Aerobic endurance |
| 26 | Aerobic endurance | Power |
| 27 | Aerobic endurance | Aerobic endurance |
| 28 | Aerobic endurance | strength work |
| 29 | Rest | Rest |
| 30 | Aerobic endurance | Aerobic endurance |
| 31 | Aerobic endurance | Power |
| 1 | Aerobic endurance | strength work |
| 2 | Rest | Aerobic endurance |
| 3 | Aerobic endurance | Aerobic endurance |
| 4 | Aerobic endurance | strength work |
| 5 | Aerobic endurance | Aerobic endurance |
| 6 | Rest | Rest |
| 7 | Aerobic endurance | strength work |
Aerobic endurance.
He does four types of work:
30-45 min of continuous running

50-60 min of continuous running.
For this type of work there are not precise conditions, he is not asked any specific pace, however. he is demanded that he runs at his maximum at that moment, this varies from one day to another and has nothing to do with the season. So, this means that El Guerrouj can run one day between 3:00-3:10/km pace and sometimes at 2:50/km.
4 x 2000 m in 5:10 with 2 min recovery

6 x 1000 m in 2:30 with 2 min recovery
The distances of the repetitions have been standardized because his coach considers important to set a "work rhythm" with high intensity (around 70% for him). For this reason, when El Guerrouj can not finish a certain training session, he repeats the workout the following day, instead of seeking a different solution.
Strength work.
He works on the main muscle groups, but the coach believes in work the small ones as well, those that have major influence in the posture, in a varied way, through the utilization of free weights and special gym apparatus. During this stage he has done the following exercises:
Half-squat 6 x 20 reps with 25 kg bar

Half-squat 4 x 16 reps with 30 kg bar

Squat 4 x 16 reps with 20 kg bar
In machines/apparatus:
Hamstrings 4 x 16 reps

Quadriceps 4 x 16 reps

Abductors 4 x 16 reps

Adductors 4 x 16 reps

Lunges 4 x 20 reps with 25 kg bar

Step-up 1 x 20 reps with 30 kg bar with each leg

Abdominal 300-400 reps

Back 300-400 reps
Power.
He does once a week up-hills 10 x 300 m
besides horizontal jumps and vertical jumps over hurdles.
Physical preparation.
This type of work includes general exercises, drills, stretching and back and abdominal exercises. The stretching exercises are always present in all training sessions during the warm-up and the end of session.
After this first cycle he competed in some indoor races, which resulted in 2 world records:
1500 m 3:31.18 WR indoor Stuttgart, Germany, February 2, 1997.
1Mile 3:48.45 WR indoor Gent, Belgium, February 12, 1997.
1500m..1st_3:35.31 World Indoor Champs, Paris, March 8, 1997.

あと1メニュー分ソースにあります。
http://www.oztrack.com/hicham.htm